Update: 2023 The Oregon ranch may be history and I live in Washington now but: I'm missing the horse scene and so I've decided to begin teaching again, on a smaller scale and with no school horses. In other words, on your horse(s). I can travel to your place and also teach clinics. Give me a call if you're interested: 541 864 9840 or email to Judyherman@pm.me



(December 2020) Three Gaits has ceased operations; the ranch has been sold and we're moving on.

It has been a long and wonderful journey and we will miss all of you. Thanks for traveling with us.

Three Gaits

, owned and operated by Judy Herman, is located a few miles from the scenic town of Rogue River in southern Oregon. Our 45+ acre facility, set in beautiful surroundings, features an indoor Olympic size dressage arena and a spacious outdoor multi-use arena, surrounded by trees and large grassy meadows. The horses have stalls, paddocks and irrigated pastures with large run-in sheds. There are also wooded trails on the property that borders on over 300 acres of BLM land.
For the beginner rider, we provide expert and fun instruction on safe and well-trained school horses. Judy emphasizes basic horsemanship, safety, and the fundamentals of English riding for all riders, regardless of level of experience. She enjoys, and has been very successful, working with advanced riders to improve their dressage or jumping skills. The Riding Instruction pages contain more information.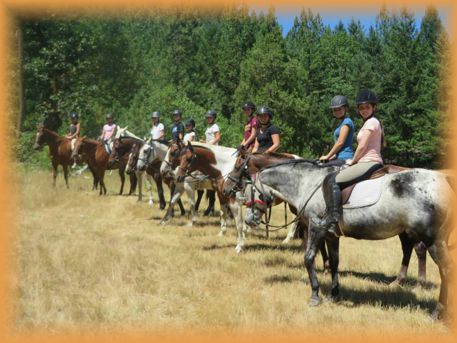 Our resident and day summer camps for girls ages 9 – 17 are a perfect match for anyone who loves horses and wants to learn and perfect proper riding techniques. For those who desire it, camp can be an intensive riding experience, with five or six hours per day in the saddle. However, we always tailor each session to fit the experience, skills and comfort level of those attending; no one need feel pressured. After all, this is fun! Check out our Summer Riding Camp pages for more details, camp photo galleries, some testimonials and a camp registration form to download.