Our Philosophy
People | Horses | Community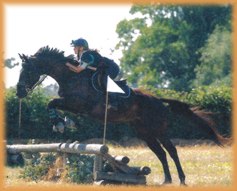 Holly & Delano
Three Gaits has ceased operations; the ranch has been sold and we're moving on.

It has been a long and wonderful journey and we will miss all of you. Thanks for traveling with us.
"In my seven years at Three Gaits with Judy I gained a foundation of support and discipline that stayed with me long after I left for college. I developed a love for dressage and three-day eventing through the excitement of my peers and Judy's dedication to the sport, and quickly found myself spending every day at the barn enjoying their company and working toward improving every aspect of my riding. My time at the barn and in competition was a consistent source of happiness, challenge and inspiration that gave me the motivation to be fully committed to my partnership with my horse in and out of the show ring. Three Gaits offers a top-quality training program because Judy values the fundamentals of riding. She starts her students with the basics of classical dressage, then builds with specific training for the particular discipline that her students want to pursue, including show-jumping, three-day eventing, dressage, and pleasure riding."
"At Three Gaits students are free to engage in the level of competition that makes them feel comfortable. Judy's students have competed in the Northern California Junior Dressage Championship every summer as well as recognized three-day events. We thrived on the high standard this level of competition demanded, and worked together as a team to make sure we pursued such standards without losing sight of what matters about riding: meeting personal goals, enjoying the experience, and above all, caring for our horses."
"I rode at several other barns before starting at Three Gaits, and the quality training I received there was far and away the most rewarding and nurturing I experienced. There is an inclusive, comprehensive quality about riding at Three Gaits; students get a sense for several different disciplines of riding, and learn that horse care is not only a fundamental part of being an equestrian, but that it makes riding more gratifying and enhances the relationship between horse and rider."
"The competitive mood that often taints the equestrian movement is never present at Three Gaits. Riders are supportive of each other and Judy and her students place much more importance on daily improvement than with solely winning competitions. Judy's training program nevertheless produces winners. her students are very successful in competition, but the ribbons we won were always icing on the cake to the bonds we created with our horses and each other, the fun we had, and the personal improvement we achieved. The most difficult part of leaving for college for me was leaving Three Gaits. It was a family for me, and an atmosphere that instilled lasting discipline, self confidence, and happiness."
For more information, email Judy@threegaits.com